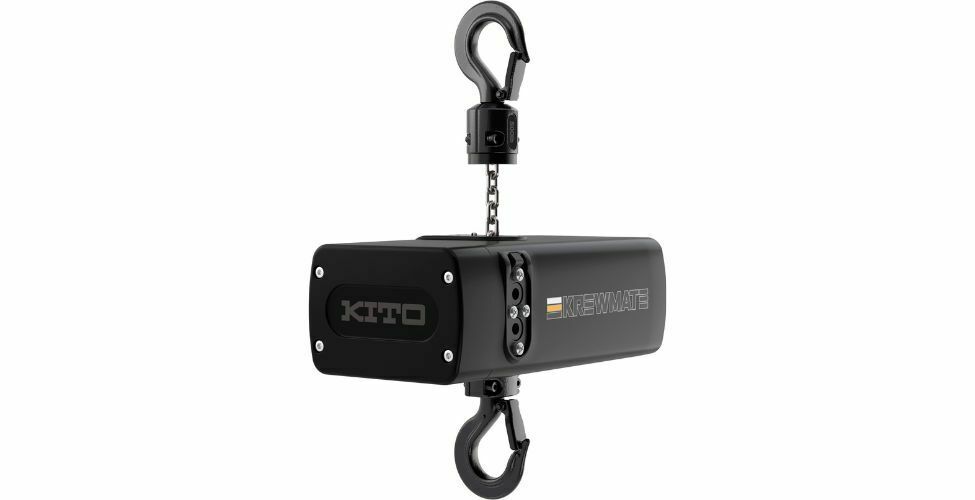 KITO Entertainment Group introduces KREWMATE Mini Entertainment Chain Hoists
2023-02-24
Manheim, PA – Harrington Hoists, Inc./ KITO Entertainment Group has released their new line of KREWMATE Mini Entertainment Chain Hoists. These hoists are available in both single-phase and three-phase models, in capacities of 500 and 1000 lbs., and are intended for use in theaters, concert halls, arenas and studios.
KREWMATE mini hoists are designed with a state-of-the-art control system using solid state relay (SSR) technology and a microcontroller unit (MCU) to increase the longevity of the hoist and provide superior safety functions. They also exceed stringent world standards; comply with German regulation BGV-D8, US ASME/ESTA standards and are UL listed to UL1340/CSA 22.2.
Standard features include a high performance motor brake, a unique chain guide designed to prevent chain tangling, completely sealed housing allowing for both indoor and outdoor use, a grease packed gearbox for demanding entertainment needs and a compact round body with no sharp edges that fits conveniently in 12" truss.
Known for top products and superior service, Harrington Hoists, Inc. and Peerless Industrial Group, Inc. (subsidiaries of KITO CORPORATION) have long histories as industrial manufacturers in the USA. We are the market leaders for hoists, cranes, material handling equipment, chain and hardware in the USA. As we address the diverse needs of the entertainment market, we are pleased to expand our product offerings under the KEG (KITO ENTERTAINMENT GROUP) brand to include a wide variety of entertainment specific lifting and rigging products.
3-1-21 Our model TCW lube free, wash down air hoists are designed for use in humid, outdoor or limited corrosive environments or where equipment must be washed or hosed off regularly.These hoists also operate without air supply lubrication, leaving work areas free of oil mist from air exhaust. Harrington's TCW hoists feature an unpainted compact & lightweight cast ...