EQ Electric Hoist - 3 Phase
A True Powerhouse in a Small Body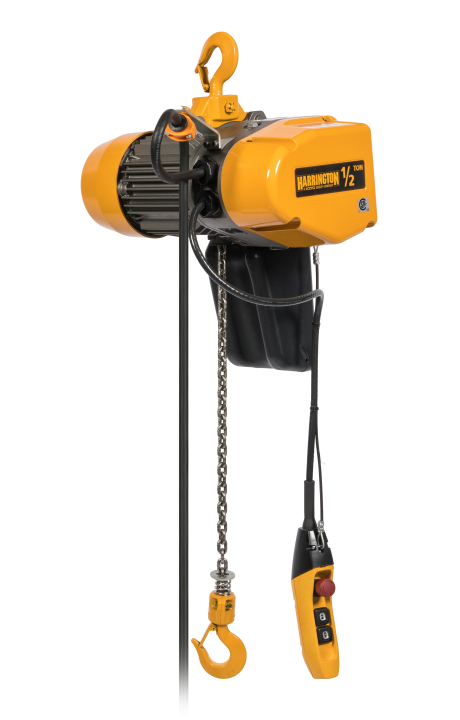 EQ Electric Hoist - 3 Phase
A True Powerhouse in a Small Body
Harrington's EQ dual speed VFD 3-phase electric chain hoists are designed for medium to heavy-duty industrial and workstation applications. These hoists include a unique no-load high speed function that automatically increase hoist speed up to 130% when the load is less than 30% of working load limit.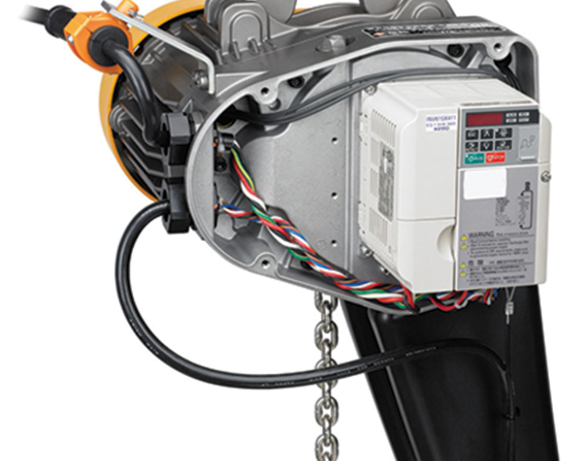 Variable Frequency Drive (VFD)
All models come with a standard "under-the-cover" variable frequency drive – regardless of voltage. This device works by varying the power to the motor, which allows you to adjust both the high and low speeds. It also provides a soft-start/soft-stop operation to reduce shock loads, swing, and bounce – resulting in more precise load control and longevity of the hoist.
COMPACT ALUMINUM BODY
Die-cast body is lightweight and offers low headroom – one of the best in the industry. Paint is electrostatically applied.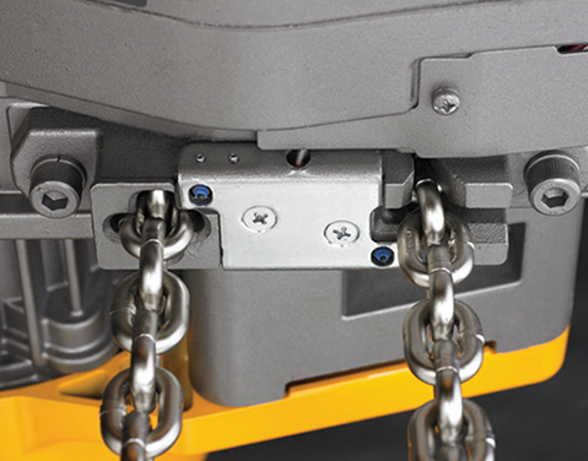 Unique Chain Guide
Provides quiet and smooth guiding of chain. Heavy cast iron construction for improved wear versus stamped steel design offered by many manufacturers.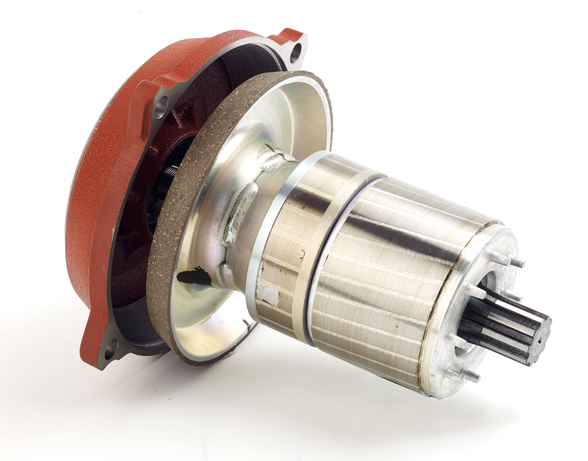 Self-Adjusting Maintenance-Free Brake
Equipped with our pull-rotor motor brake, the EQ has no brake coil to fail or discs to replace, making it virtually maintenance free.
NO-LOAD HIGH SPEED
When working with less than 30% of the full rated capacity, the EQ can operate 1.3 times faster, optimizing your work efficiency and production time.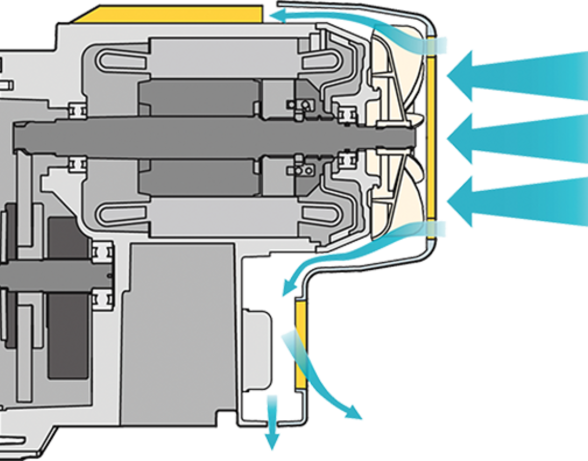 Extreme Duty, Three-Phase, Fan-Cooled Motor
Rated for an ASME H4 Classification, the motor has a 30/10 minute duty rating in a three phase, dual speed offering. The external motor fan functions to quickly eliminate resistor, motor, and brake heat.
https://my.zrealitysphere.com/api/hosting/Q6OEYKJIO7KLJIAVJ62SSQQYYD51MU38/index.html
CAPACITY
VOLTAGE
(208-230)-3-50/60
(380-460)-3-50/60
COMPLIANCE
UL 508, 508A, 1004
CSA C22.2 NO.33,14-13, 66
ANSI/NFPA 70, "National Electrical Code"
ANSI/ASME B30.16, "Safety Standard—Overhead Hoists (Underhung)"
ANSI/ASME HST—1M, "Performance Standard for Electric Chain Hoists"
CLASSIFICATION
ASME H4
ISO 1/8-1/2T M6; 1T M5
FEM 1/8-1/2T 3m; 1T 2m
BODY
Gaskets throughout the hoist provide for a IP55 rating
Die-cast aluminum
Completely sealed body for for both indoor and outdoor applications, including harsh environments.
Low headroom
Paint is electrostatically applied
Plastic chain container standard
GEARS
Precision machined helical gears immersed in oil bath lubrication for quiet, smooth and cool operation
LOAD CHAIN
Ultra-strong high-performance and corrosion resistant nickel-plated
Grade 80 DIN chain
OPERATION
Pendant control
Under-the-cover VFD standard
HOOKS
Forged carbon steel
Open gradually without fracturing under excessive loads
Bottom hook swivels 360 degrees
Top and bottom hooks have heavy-duty hook latch
PUSH BUTTON PENDANT
Rated IP65
Standard control voltage is 24VDC
Strain relief wire is molded to pendant cord for added support and dependability
2-button (momentary contacts) with emergency On/Off (maintained contacts)
E-stop is standard on all pendants
BRAKE
Extremely durable and reliable pull-rotor motor brake
Contains no brake coil to fail like conventional disc brakes
MOTOR
Totally enclosed fan-cooled (TEFC)
External motor fan quickly eliminates resistor, motor and brake heat
30/10-minute duty rating, H4 classification, Class B insulation, cooling fins and external thermal motor protection
OPERATING CONDITIONS
Recommended for -4° to +104° F and humidity of 85% or less
OPTIONS
Longer lift or pendant lengths
Suspension bar for low headroom or enclosed track trolley applications
Longer lift canvas chain containers