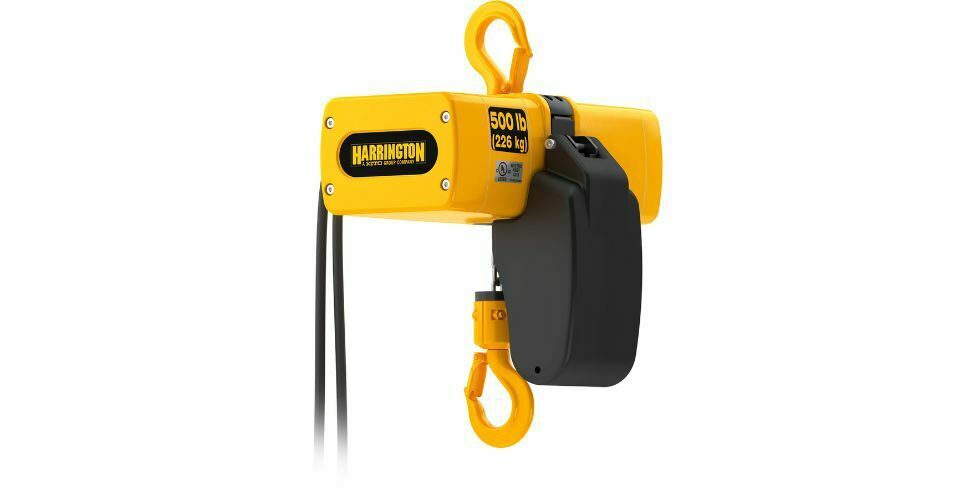 Harrington Hoists, Inc. Releases New EM /SEM Series Mini Electric Chain Hoists
2023-02-23
Manheim, PA – Harrington Hoists, Inc. has released two new lines of Mini Electric Chain Hoists designed for use in medium- to heavy-duty industrial settings, repair shops, garages and any facility with limited space.
Harrington's EM series three-phase mini electric chain hoists are available in 250-, 500- and 1000-pound capacities. Their SEM series single-phase mini electric chain hoists are available in 500- and 1000-pound capacities. The standard configuration is top hook mount. Harrington's PT series push trolley may also be paired with these hoists for added mobility.
These hoists have a compact and rugged die-cast aluminum body with no sharp edges and feature a high-performance motor brake, a unique chain guide designed to prevent chain tangling, completely sealed housing allowing for both indoor and outdoor use and nickel-plated load chain for corrosion resistance.
The EM and SEM series hoists are certified and listed to UL 1340 "Standard for Hoists" and CSA 22.2 No. 33 "Construction and Test of Electric Cranes and Hoists" and include a low-profile upper limit switch to protect the hoists from overwinding. Both models are designed with a state-of-the-art control system using solid state relay (SSR) technology and a microcontroller unit (MCU) to increase the longevity of the hoist and provide superior safety functions.
3-1-21 Our model TCW lube free, wash down air hoists are designed for use in humid, outdoor or limited corrosive environments or where equipment must be washed or hosed off regularly.These hoists also operate without air supply lubrication, leaving work areas free of oil mist from air exhaust. Harrington's TCW hoists feature an unpainted compact & lightweight cast ...