NERP/ERP Electric Trolley Hoist - 3 Phase
Rock Solid Dependability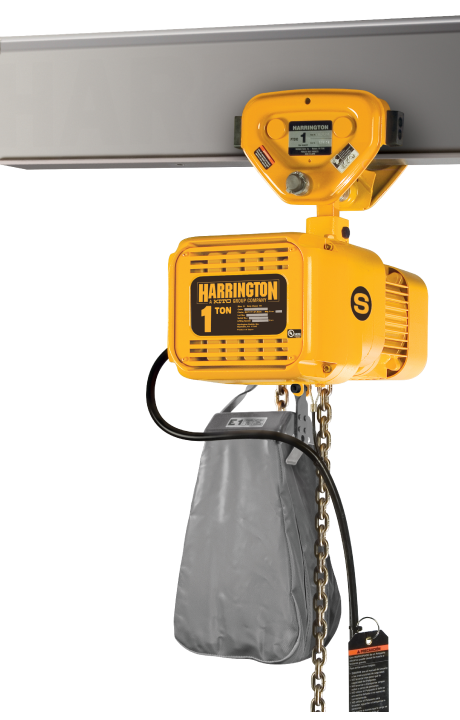 NERP/ERP Electric Trolley Hoist - 3 Phase
Rock Solid Dependability
Mounting our NER/ER Series hoists to a PT push trolley will create an easy and economical method of transporting the load. This combination is ideal for small workshops and infrequent moves.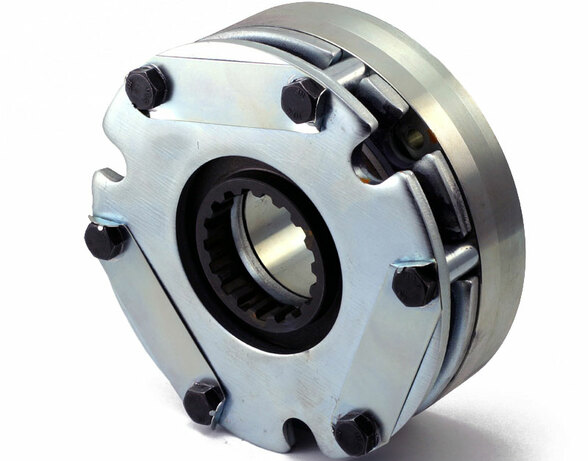 Smart Brake Technology
The NER/ER's Guardian Smart Brake has an electrical fail-safe design that uses DC current to control brake activation. The fast activation drastically reduces wear on the brake discs, preserving the correct brake gap. The result is a maintenance-free braking system with a 10-year hoist brake warranty.
EXTREME DUTY MOTOR
Hoist performance is Increased through 60 minute duty rating, H4 classification, Class B insulation, cooling fins and standard thermal motor protection. This hoist offers higher horsepower than most competitors.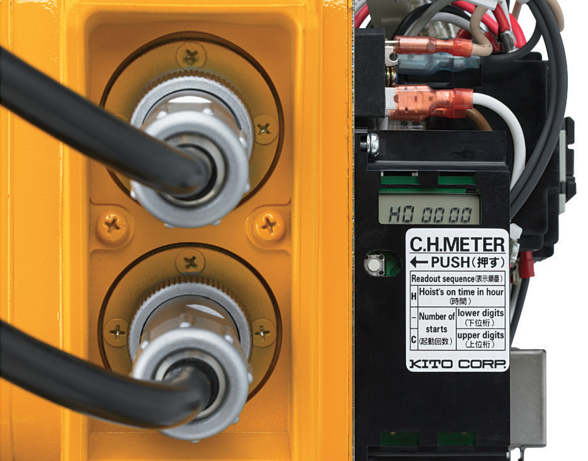 Count Hour Meter
The count hour meter records and displays the number of lowering starts and hoist on time which is valuable for preventive maintenance. This feature is integral to VFD on dual speed models.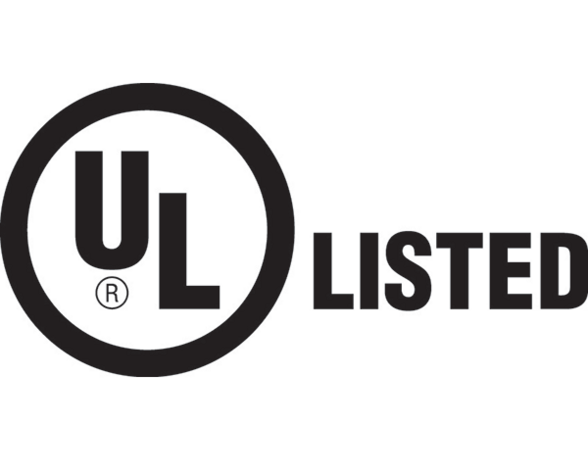 UL Listed
Most models are certified and listed to UL 1340 "Standard for Hoists."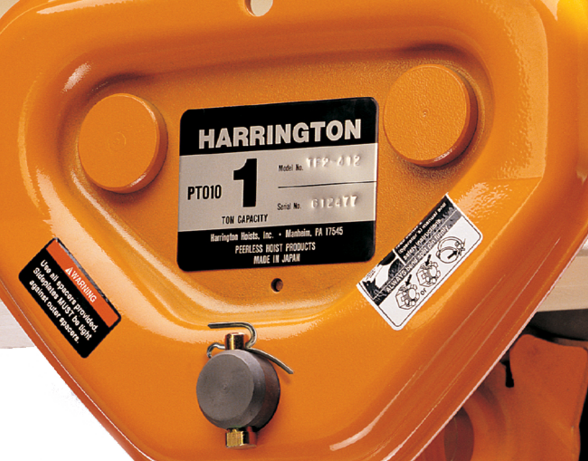 Push Trolley
Engineered to be lightweight and easy to install, our trolleys are specifically designed to be robust and durable, without unnecessary weight and bulkiness.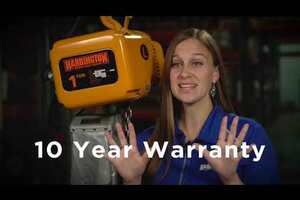 NER Hoist
Harrington's (N)ER enhanced features three phase electric chain hoists are equipped with the latest technology in the market today. All models include a low headroom, lightweight body with a fan-cooled motor, standard thermal motor protection and a count hour meter for preventive maintenance. A secondary mechanical load brake is an additional features on ER models only. Simply the best hoists on the market!
CAPACITY
VOLTAGE
208-230/460-3-60
Dual speed models are not reconnectable
COMPLIANCE
UL 1340 - Most models shipped with UL listing. Contact Customer Service for listed models.
ANSI/NFPA 70, "National Electrical Code"
ANSI/ASME B30.16, "Safety Standard—Overhead Hoists (Underhung)"
ANSI/ASME HST—1M, "Performance Standard for Electric Chain Hoists"
CLASSIFICATION
ASME H4
ISO M5 or M4
FEM 2m or 1Am
BODY
Rated IP55
Die-cast aluminum
Completely sealed body for for both indoor and outdoor applications, including harsh environments
Low headroom
Easy access external pins allow for quick change from hook to lug for trolley mount configurations on most models
GEARS
Heat treated helical and spur gears are precision machined for long life
Oil bath lubrication promotes a quiet, smooth, cool operation
LOAD CHAIN
Ultra-strong high-performance and corrosion resistant nickel-plated
Grade 80 DIN chain
Made with unique technology to greatly increase resistance to fatigue and wear
OPERATION
Pendant control
Under-the-cover VFD standard for dual speed hoists. Speed ratio is 6:1 with adjustability up to 12:1
Plug in pendant and power supply cords save time on set up and maintenance
HOOKS
Forged carbon steel
Open gradually without fracturing under excessive loads
Bottom hook swivels 360 degrees
Top and bottom hooks have heavy-duty hook latch
GREEN INITIATIVE
Built smarter without the use of harmful materials.
Environmentally friendly
RoHS compliant
PUSH BUTTON PENDANT
Rated IP65
Standard control voltage is 110V
Strain relief wire is molded to pendant cord for added support and dependability
Single speed: 2-button (momentary contacts)
Dual speed: 2-button (momentary contacts) with emergency On/Off (maintained contacts)
E-stop is standard on all 2-button dual speed pendants
BRAKE
"The Guardian": Smart Brake Technology
Revolutionary DC current motor brake with electrical failsafe design
10 year warranty
MOTOR
Totally enclosed fan-cooled (TEFC)
Motor fin, fan blade and fan cover design cools the motor and brake
OPERATING CONDITIONS
Recommended for -4° to +104° F and humidity of 85% or less
TROLLEY FEATURES
Drop Stops
Shafts fit wide flange range and have spacers for easy adjustments
All steel wheels have sealed ball bearings and will fit a flat or tapered beam flange
OPTIONS
Plastic, canvas, or steel chain containers
Longer shafts for wider beams
Bumpers
Longer lift or pendant lengths
Other voltages