AH Mini Cat Air Hoist
No Lightweight in Performance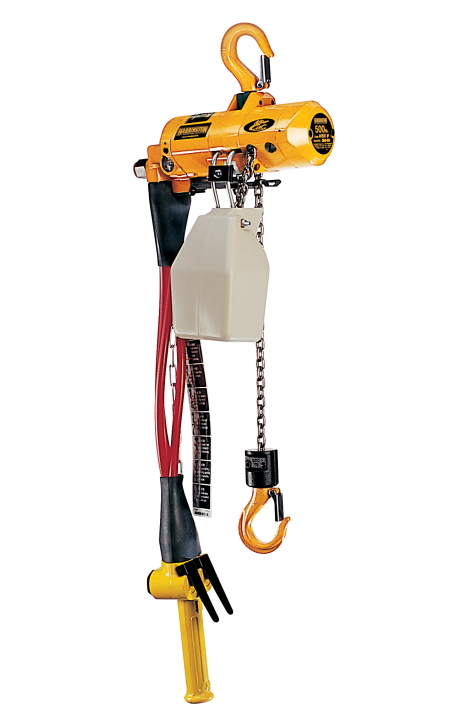 AH Mini Cat Air Hoist
No Lightweight in Performance
Harrington's AH Mini Cat air chain hoists offer an extremely lightweight, small body design suitable for on-site jobs, workstations and assembly line applications. Don't be fooled by its small size - the Mini Cat is no lightweight in performance, only in dimensions.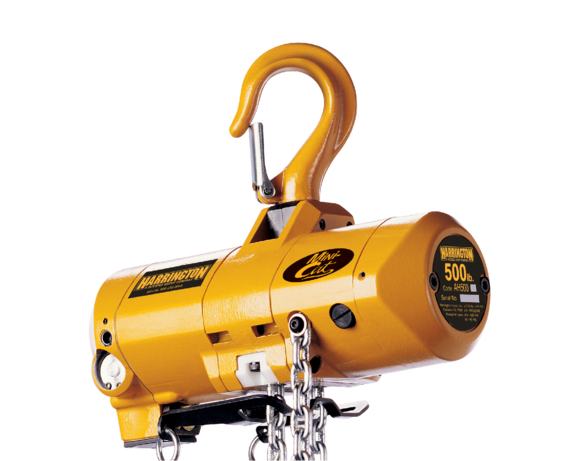 Extremely Compact Hoist Body
Installing and moving this little hoist is a breeze with its light weight and super small size.
UNLIMITED DUTY CYCLE
With its unlimited duty cycle, you can continually operate the hoist without worrying about damage from too many starts per hour.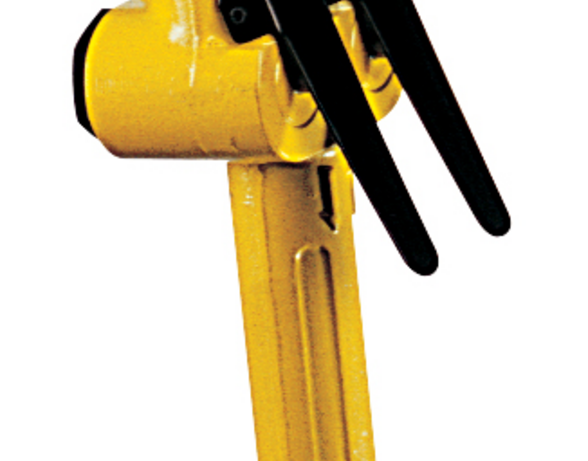 Flexible controls to fit any application
These little hoists are available in pendant or cord control to fit any of your lifting preferences.
VANE MOTOR DESIGN
The spring-loaded, multi-vane motor design lets you place and position a load exactly where you need it. Gradually control the lift with very fine feathering movements both up or down.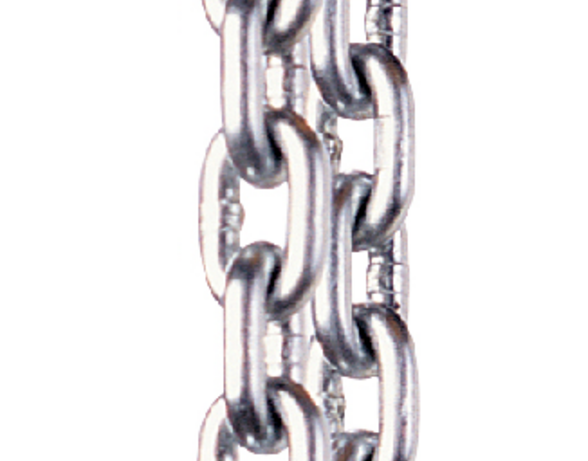 Nickel Plated Load Chain
Resistant to corrosion, abrasion and wear.
CAPACITY
BODY
Lightweight body allows for easy transportation
Airtight hoist for efficient use of air
LOAD CHAIN
Ultra-strong high performance nickel-plated load chain
Resistant to corrosion, abrasion and wear
AIR REQUIREMENTS
Air Supply: 19 – 34 cfm at 60 – 90 psi
Air Lubrication: Minimum 10 to 15 drops of oil per minute (0.2 – 0.3 cc/min.)
Air Filtration: Maximum 5 micron air filter or finer required
Air Inlet Port: 3/8" NPT
Air Supply Hose Minimum Size: 3/8"
OPERATION
Pendant or cord control
Extremely fast lifting for applications where speed is critical
Comfortable noise levels during use
BRAKE
Disc motor brake system for reliable load support
MOTOR
Spring-loaded multi-vane motor
OPERATING CONDITIONS
Temperature Range +14° – 140°F
OPTIONS
ET mini trolley
Pendant or cord control
Plastic chain container