Harrington's strong, collaborative leadership team is the backbone of our organization who constantly inspire, motivate and empower all employees in the organization to succeed within the company.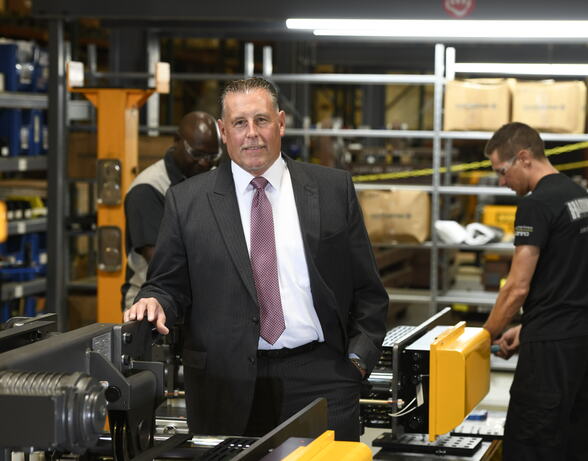 Carlo Lonardi - President of Harrington Hoists, Inc. and President & CEO of Kito Americas
I joined Harrington Hoists, Inc. as the Eastern Division Sales Manager overseeing 80% of Harrington's U.S. sales duties in 1997. I moved to VP of Sales & Marketing and then to COO where I took on all operational responsibilities of the company. I currently serve as President of Harrington Hoists, Inc. and President & CEO of Kito Americas. Harrington prides itself on having the customer focus mentality of a small company while our operations and facilities continue to grow globally. Our strong passion for our product and this customer focus philosophy is shared by all employees which revolutionized the industry and rewarded us with the number one spot in market share in the U.S. today.
Mark Snavely - CFO
My career started with Harrington as a Controller in 2005 and over the years I have held the roles of Director of Finance, VP of Finance and am currently CFO. I think Harrington Hoists, Inc. allows its employees to impact the company in more ways than roles define them. Despite the finance title, I was able to have opportunities to be involved with operations, customer service, and sales since I joined the company. This collaborative environment is created by a good company culture that is supported by great people who all want to get better each day. We have the same goal: To serve customers in the best way possible. The people on my teams know their roles fully and why their work is important, no one is just checking the boxes, which allows each one of them to solve problems and strive for continuous improvement. I enjoy this environment of healthy challenge.
---
Jim Small - VP of Sales
I joined Harrington Hoists, Inc. in 1996 as an End -User Specialist and I later experienced being a Sales Rep based in Cincinnati and Mid-West Regional Sales Manager before I accepted the position of VP of Sales and moved to Lancaster County. Working with Harrington has been a great experience since there is a culture of treating all employees with care, which shows in the many company-hosted events such as baseball games and luncheons. I'm proud of selling our fantastic products along with my team with a goal never to say "No" to customers. This culture has created brand loyalties from both customer and our employees that has developed long-lasting relationships.
---
Jason Said - VP of Business Development
When I joined Harrington Hoists, Inc. in 1997, I started on the production side of the business. Throughout my career at Harrington, I have been fortunate enough to have many opportunities to grow within the company. I have had the pleasure to experience roles in Customer Service, Outside Sales and Marketing. My current role is Vice President of Business Development. I would say my favorite part about working for Harrington is there is a family-feel throughout all employees. This environment breeds a passion for success and each team works towards the same goal, to offer the safest products in the world to our customers. As shown through my career path, Harrington offers many opportunities to grow across several different fields. This is evident within my Business Development team which is made up of multiple assets from several departments and has allowed all involved to explore new opportunities within the company.
---
Ken Woidill - VP of Operations
I joined Harrington Hoists, Inc. in 2013 as Director of Operations. I later moved to Managing Director of Harrington Hoists, Inc. and Kito Americas. My current role is VP of Operations and my departments are responsible for the first to the last touch of order fulfillment, starting from customer service through supply chain management, engineering, manufacturing, and production. Each department is run by experienced professionals, with exceptional interdepartmental collaboration, primary seeking out highest customer service levels which does not stop at the managerial level. Our employees have a significant level of knowledge, from supervision of manufacturing to customer service representatives, with some employees who have worked with the company over 20 years. Our effort to offer the best performance and respect for the customer have created loyalties we continue to win every day.
---
Steve Emery - Sr. Manager of Hoist Operations
It was 1998 when I joined Harrington Hoists, Inc. as a Production Supervisor and I worked my way up through Material Manager and Plant Manager to my current position Sr. Manager of Hoist Operations, which manages both Elizabethtown PA and Corona CA manufacturing facilities. My hoist operation team embodies Harrington's positive customer focused atmosphere and are given opportunities for growth. Every member of the manufacturing sector has a detail oriented and quality driven mindset with great teamwork that ensures customer satisfaction by providing the best products in the industry.
---
Justin Rineer - Customer Service Manager
I'm the Customer Service Manager at Harrington Hoists, Inc. and have been with the company since 2008, commuting to Manheim from Lititz, PA. I enjoy building Legos and I am an avid fisherman, often going out to make a few casts in the water during my lunch breaks. My team offers a family feel and a team environment with value added services. Our service level goal is above 90% which is much above and beyond the industry standard. The knowledge of each customer service representative is exceptional as Harrington's customer service staff are not only entering the orders, but are fully trained to answer any questions, including technical, to fulfill the needs of our customers.
---
Drew Schoenberger - Manager of Engineering and Manufacturing
I am the Manager of Engineering and Manufacturing working with Harrington since 2007 and my favorite project throughout my time in the company was domesticating the supply and assembly of our CF hand chain hoist. Harrington has been an excellent place to work because of the people and the products. The team has a blend of seasoned experience and youthful motivation. They complement each other and allow us to continuously offer better service to our customers while keeping the work environment exciting and challenging. Both the Engineering and Manufacturing departments offer employees the opportunity to work on exciting new products and the ability to contribute. These departments are interdependent on each other and can only thrive when each member contributes their expertise.
---
Guy Haney - Manager of Logistics & Safety
I have been a Harrington employee since 2006 and currently am working as Manager of Logistics & Safety. I live in a nearby town of Lititz, PA and enjoy home activities such as wood working, cooking, and reading. My department handles the last product touch before it leaves our dock. With being the last team to handle the products before they reach our customer, my department always maintains the goal of "Quality First". With many logistic difficulties the company faces being part of a global corporation, we work as a team to deliver the highest quality products in the industry to our customers.
---
Tara Williams - Supply Chain Manager
I am the Supply Chain Manager at Harrington, managing the flow of goods, resources and information required by the supply chain to ensure the critical processes run effectively and achieve organizational goals and performance KPIs. As an accomplished supply chain professional with almost 20 years' experience, including the past several years at Harrington, I have led coordination efforts with procurement, production, inventory control, transportation, and other functions to optimize the supply chain. The summer season is my favorite and when I am not working, I enjoy traveling, relaxing by the pool, attending Phillies games and going to the beach in Sea Isle City, NJ. Harrington is a good place to work because of the opportunities. Within the Supply Chain team, innovation and creativity are encouraged. The past couple of years global supply chain constraints and logistics challenges have been a struggle but our team perseveres.
---
Jennifer Ferguson - Business Development Manager
I work as the Business Development Manager at Harrington Hoists, Inc. and have been with the company since 2011. I joined the company as a Standard Products Engineer and became a Product Manager, leading up to my current role. What I value in this company is the camaraderie. Our executive members value individual employees and show their appreciation in various ways. As for our department, we specialize in managing the product life cycle from start to finish which involves all departments in the company. Due to our company nature, we deal with the Japanese team often and that's been an interesting experience as well. We appreciate their thoroughness in product design, research, manufacturing, testing, and appreciate their expertise.
---
Troy Thomas - Manager of Product Development Engineering
My journey at Harrington started as a Standard Product Engineer then continued as Lead Engineer to Supervisor of Product Development and my current position is Manager of Product Development Engineering. The key to my department's success is communication. It is absolutely a necessity for Product Development to communicate with all departments within the corporation. My team of engineers and specialists come from various backgrounds therefore bringing a diverse skillset and mindset to the department. Harrington is a workplace filled with opportunities. Just because you begin your career in one position or department does not mean you have to remain on that career path. There are always different opportunities waiting to be explored, if one desires the challenge.
---